HZXVOGEN MIG145 110/220V Semi Automatic Non Gas Welding Machine
HZXVOGEN MIG145 110/220V Semi Automatic Non Gas Welding Machine
This Semi Automatic Welder Come With IGBT Inverter Technology
It Has Inbuilt current mode control
Manufacturer Performs 30 Step Quality Testing To Ensure Reliable Quality And Stable Performance
It Has Constant Output, Strong Anti Network Voltage Fluctuation Ability
HZXVOGEN MIG145 110/220V Semi Automatic Non Gas Welding Machine
Welding is a fabrication process that employs heat to join two or more separate pieces of any metal. Industry Leaders prefers semi automatic non gas based welding Machines more than the traditional arc-based welding.
This Spot Welders is good for Amateurs and easy DIYs.  
You can use This semi automatic welding machine using methods written below; 
Tungsten inert gas (TIG) welding. This arc welding method employs the use of a non-consumable tungsten electrode to heat the workpiece and melt the filler (if present) to produce the weld. This makes this product semi automatic tig welding machine.
Metal inert gas (MIG) welding. This arc welding method uses a consumable wire component—serving as both the electrode and the filler material—to produce the weld; This makes this machine an semi automatic mig welding machine.
Spot-welding. This welding method utilizes a pair of electrodes to clamp workpieces together and pass an electric current between them to create the weld.
HZXVOGEN MIG145 110/220V Semi Automatic Non Gas Welding Machine Parameters:
Input voltage: AC~220V±15%
Input current: 25A
Output voltage: 11~24V
No-load voltage: DC50V
Output current: 20-140A
Maximum rated input power: 4940
Maximum output power: 2940W
Maximum input power: 4940W
Recommended circuit breaker: 40A
Load duration: 140A 25% 70A 60%
Welding thickness: 0.4-5mm
Applicable welding wire diameter: flux core 0.6/0.8mm
HZXVOGEN MIG145 110/220V Semi Automatic Non Gas Welding Machine Features:
Compatible With Flux Core and Spot Welding
It Can Automatically Feed Wire Without Filling When Pressed MIG Torch Button
One-time Mol-ding, Don't Need To Knob Slag,
Don't Need To Polish.
Its efficiency is 30% Higher Than Traditional ARC
Inbuilt Unified Control Function, Only Has Small Splash.
It Can Spot Welding Ultra-thin Material,Make The Spot Point More Sleek And Firm
It Can Control The Width Of Welding Bead By Adjusting Inductance.
Overheating And Over-current Automatic Protection Function Which Effectively Protect The Internal Circuit Of The Welder From Damage
Easily Adjust The Current And Voltage To Welding
HZXVOGEN MIG145 110/220V Semi Automatic Non Gas Welding Machine

Packing list:
MIG145 Welding Machine*1
1KG 0.8mm Flux Core*1
240cm Mig Torch *1
130CM Ground clamp*1
To know more about Best Welding Industrial Robots To Ensure Better Production Time follow our blog
Unpacking and appearance
Comes in a cardboard box. They give a separate track for the wire and it comes separately, this track is the main one in the order, so at first I thought that the device was stolen, but I opened the details of the order from the PC and saw an additional track
Includes welder and instructions, all cables are already in place.
The wires, like last time, are soft, only there is no marking on the power supply.
The burner is standard, a 0.8mm spout is installed, the cable length is two meters

In addition to the handle, there are additional slots in the upper part of the case, so that if desired, you can attach a shoulder strap. Dimensions 304*143*155mm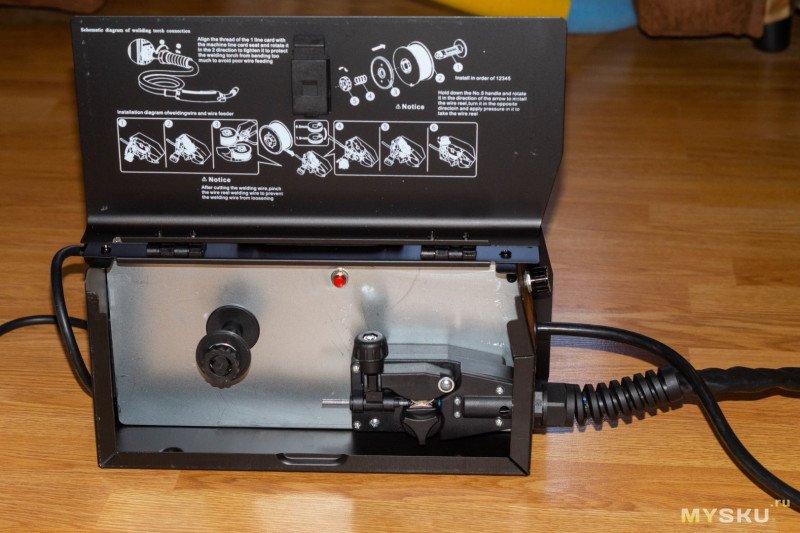 The wire spool is supplied in a sealed bag. The coils are additionally wrapped in paper, on the end there is a piece of paper with characteristics.
The free end is bent and fixed in the hole, it is not difficult to find it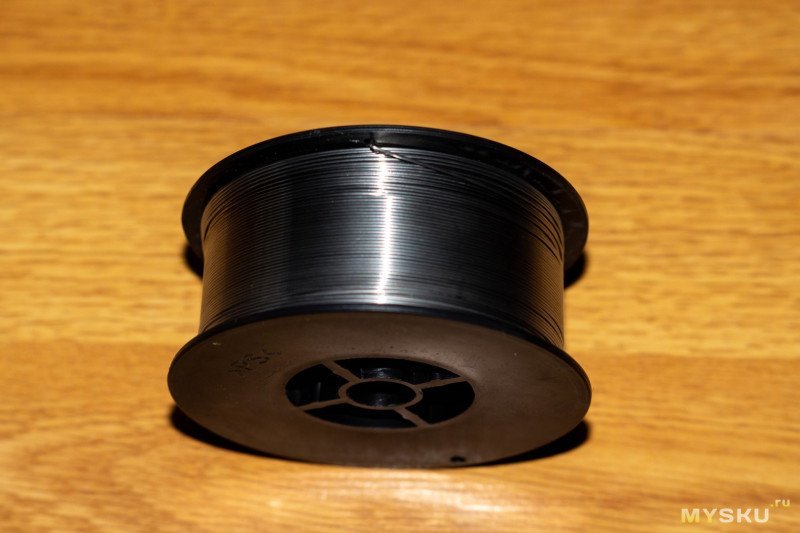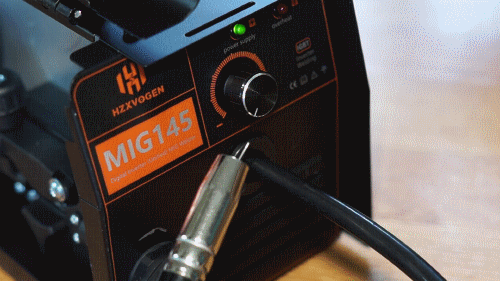 800F Welding Helmet:
| | |
| --- | --- |
| Filter Size | 133mm×114mm×10mm |
| Active Viewing Area | 100×93 |
| Light Shade | DIN4 |
| Dark Shade | DIN5~DIN9/ DIN9~DIN13 |
| Way to shift Dark State | Outer , stepless shift |
| Switching Time | ≤1/10000S |
| Sensitivity Adjustment | Stepless Control |
| Delay Time | 0.1S/0.4S/0.8S |
| | |
| --- | --- |
| Power supply | Replaceable Lithium battery & Solar supply |
| Rated Capacity of Battery | 600mAh |
| Operating Temperature | -5℃~+55℃ |
| Sensors to Weld Arc | 4 |
| Protect Grade against UVB | DIN16 |
| Weld Mode | Grind & Cut |
| Low battery | YES |
| Test | YES |
LYG-7500 Welding Helmet:
Technical Parameters
Light states: DIN 4
 Dark states: DIN5-13 free adjustment
 View Area: 105X 56mm 96X 48mm 96X 35mm
 Response time( bright to dark): 1/30000 seconds(normal temperature conditions
 The return time( dark to bright): adjustable: 0. 15 S-0. 8 S
 Sensitivity(welding based on current size): adjustable: low/hig
 Battery: lithium battery solar cells
 Uv protection: 16 levels
Working temperature:-5°c-55°c(23°F~131°F)
Storage temperature:-20°c~70°c(-4°F~158°F)
 Masks materials: PP
Weight: 450G
Warranty: 2 years
 life expectancy: 10 years
Specification:
HZXVOGEN MIG145 110/220V Semi Automatic Non Gas Welding Machine
| | |
| --- | --- |
| Brand Name | HZXVOGEN |
| Origin | Mainland China |
| Weight | 6.5KG |
| Dimensions | 420mm*24mm*28mm |
| Wire Feeding Speed | 3-18m/min |
| Mig Welder Frequency | 50/60HZ |
Shipping And Payment FAQ
There are two key factors that will affect the time you receive your items.
Processing Time: After receiving your order,we require some time to test the product to ensure its quality.The exact processing time varies depending on the item. The average processing time is 3 working days. But this can also be affected by the item's stock status. For small quantity orders,the processing time is 1-3 days while larger quantity orders may require 2-5 working days.
Shipping Method: Shipping time may vary from country to country based on selected shipping method and destination country. Below table provides a rough estimation on our shipping time to some of popular countries.
| Country | Shipping Time |
| --- | --- |
| United States | 5 - 18 days |
| Spain, United Kingdom, Italy, Germany, France & Portugal | 5 - 20 days |
| Netherlands, Greece, Poland, Hungary, Slovakia, Czech Republic | 5 - 20 days |
| Japan, Korea | 5 - 28 days |
| Brazil | 5 - 33 days |
| Thailand, Singapore & Malaysia | 10 - 38 days |
| Australia | 5 - 28 days |
| Other Countries | 7 - 30 days |
Shipping Table
Note: This is a general guide and delays may be caused by force majeure, natural disasters, inclement weather, war, public holidays, and factors outside our control. 
Payment Method: Geekyviews.com accepts all kinds of debit cards, credit cards, direct bank transfer, and Paypal as secure payment methods.
HZXVOGEN MIG145 110/220V Semi Automatic Non Gas Welding Machine